In the next five years, Low Power Wide Area (LPWA) networking technologies such as Sigfox, LoRa®, LTE-M and NB-IoT will connect hundreds of millions of smart city sensing devices to low cost multi-kilometer cloud connected networks, according to Smart Cities LPWAN – A Market Dynamics Report.
"Intensifying competition among network operators and IoT platform providers combined with accelerating rollouts of LPWA networks has created a dynamic landscape for smart city solutions," says Mareca Hatler, ON World's research director. "Cities and their residents are the beneficiaries of today's affordable solutions for smarter energy, water, transportation, public safety and environmental controls."
LPWA networks continue to displace existing outdoor networking technologies for metering and streetlight monitoring, but they are also disrupting IoT solutions for parking, waste management, smart water networks, geotechnical monitoring, pollution monitoring and bike sharing.
Unlicensed LPWA IoT network technologies like LoRa and Sigfox have given IoT operators such as Comcast, Senet, Thinxtra and UnaBiz a significant cost advantage. However, LTE-M and NB-IoT networks are rolling out worldwide by mobile LTE operators, many of which also provide LoRaWAN™ as an alternative for either public or private network use.
The recently released LoRaWAN™ 1.1 specification provides several enhancements for network operators targeting smart cities including support for passive and active roaming, class B devices as well as security enhancements. Still, the largest opportunity is LTE networks with its 3GPP's Release 13 announced last June and NB-IoT with a rapidly growing ecosystem. The inevitability of NB-IoT is not a given as its not suitable for mobile sensing applications, requires new tower installations and has interoperability issues.
There is a total potential of 2.6 billion connected wireless IoT devices for smart cities and LPWA is suited for 3 in 5 of the smart city IoT connections. ON World's analysis of over 100 companies involved with LPWA technologies found that almost half are targeting smart city applications such as parking, waste management and streetlight monitoring and 38% are targeting metering.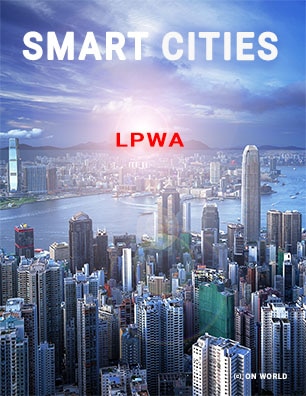 Smart city LPWA connected devices will increase by 12X over the next five years when there will be 141 million connections worldwide. Cumulative revenues from LPWA enabled equipment and associated services over this period will reach $32 billion.
Details of the new report, table of contents and ordering information can be found on Electronics.ca Publications' web site. View Report Contents: Smart Cities LPWAN – A Market Dynamics Report.